As I was perusing the interwebs today, I came across an excellent blog about Historic Homes. There are many posts, about many periods in architecture: Victorian, Mid Century Modern, Colonial, just to name a few. I highly suggest clicking over to TylerFreed.com after you read my blog, if you love homes and architecture as much as I do!
Four Luxury Homes on America's Oldest Street via Tyler Freed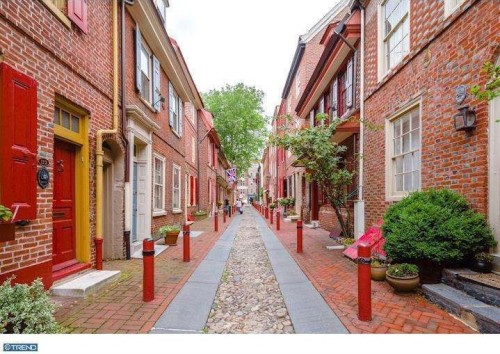 There's a museum and a gift shop — and the Liberty Bell is just around the corner — but Elfreth's Alley isn't just a tourist attraction. It's also the oldest continuously occupied residential street in America.
Hoping it stays occupied are local listing agents, who are trying to sell four properties on the historic block in Philadelphia's Old City.
"As long as I've been doing real estate, I've never seen this quality or quantity of homes [for sale] on Elfreth's or Old City. It's pretty unique," said
CenterCityTeam
's
Frank L. DeFazio
, who just posted an Elfreth's Alley home as a
Coming Soon listing
on Zillow.
Designated a National Historic Landmark, the street is sitting on a gold mine of early American architecture ranging from 18th-century colonials to federation-style row houses once owned by bakers, shipwrights, glassblowers and other tradesmen. But unlike most homes from the era, the current listings are larger and more luxurious, boasting renovated interiors and impeccably restored exteriors.
"These are luxury, high-end homes," DeFazio said. "They are insane. You just don't see homes like that in Old City north of Market. Only one or two homes on Vine [Street] are that nice."
Here's a look at the four Elfreth's Alley listings: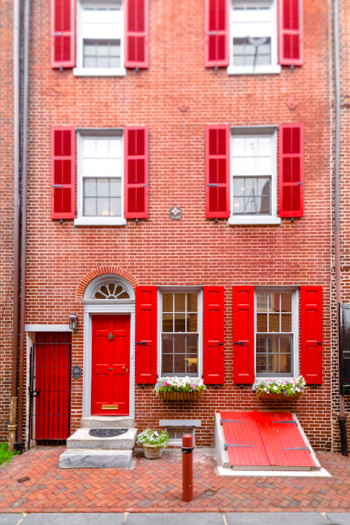 The Baker's House was the first of the four homes to hit the market. Once a 2-story brick kitchen, the federation-style home has been expanded and renovated over the years.
"Amy, one of the current owners, is very meticulous," said Adam Atacan, who holds the listing with Antonio Atacan of
The Atacan Group
. "She made it look like a museum in there."
The facade is historically certified, while a new roof, finished basement and a highly efficient HVAC system make the home better suited for a contemporary lifestyle.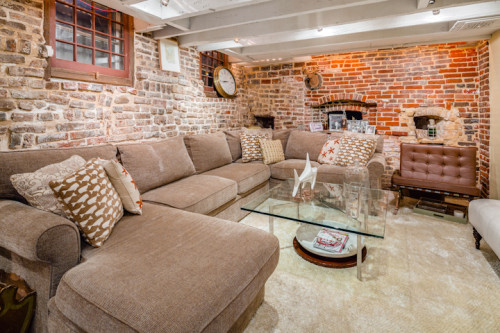 "It mixes the new with the old without losing its character," Adam Atacan said. "In the basement, you can actually see the original oven. It's not functional, but you can see the opening and everything where they baked bread."
Atacan claims this is one of the best properties on the block, noting the parking spot and rooftop deck aren't typical for homes in the area.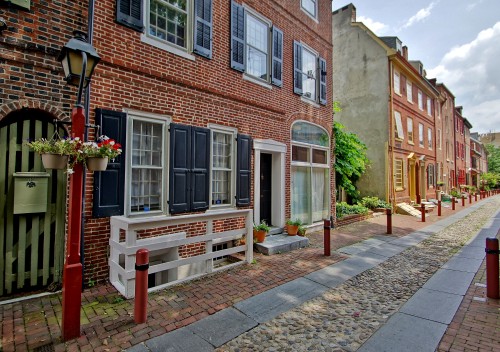 Following the trend of mixing old and new, this home boasts a beautiful old-brick design with a new kitchen, living room and dining room. An adjacent lot serves as a garden.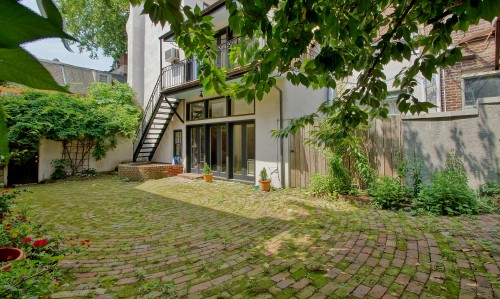 She was told that Haym Solomon, one of the largest financiers of the Revolutionary War, once lived on the lot.
Meanwhile, Atacan heard the property was once a storefront, which could explain why the first floor is so spacious. The house has 3 bedrooms and 3 baths totaling 2,290 square feet.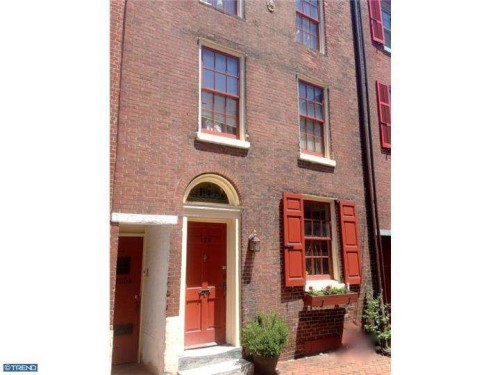 Built in 1836, this is the newest and tallest house on the block, according to Sean Kaplan, who has listed the home with John Brown of Berkshire Hathaway HomeServices | Fox & Roach Realtors. It's also the biggest home currently for sale on Elfreth's Alley, measuring 3,122 square feet.
Philly.com
first reported the listing earlier this month, noting the home is divided into two units.
"The current owners lived downstairs and rented out the upstairs," Kaplan explained. ""The lower unit has 2 bedrooms and 2.5 baths. The upper unit has 2 bedrooms and 1 bath."
Renting out part of the home was a smart financial choice, he said, because the rental covers half the cost of the property.
Kaplan doesn't have interior photos because a tenant still lives in the home, though he says he's received a good amount of interest from buyers.
"This kind of property is for a specific kind of buyer who really loves vintage Philadelphia," he said. "People are drawn to it."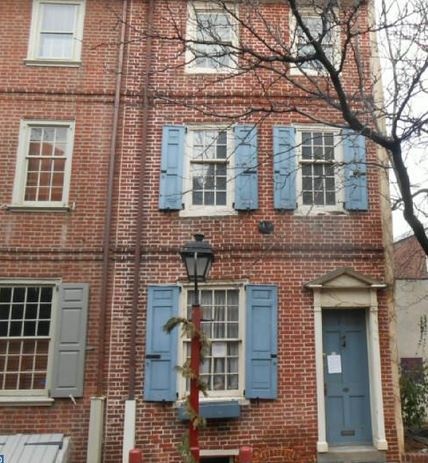 DeFazio is hoping buyers will also be drawn to 109 Elfreth's Alley. According to the
Preservation Alliance for Greater Philadelphia
, the home was abandoned while a rear addition to the property was being constructed in 2008. The house sat vacant, suffering from water infiltration, mold infestation and vandalism, until it was foreclosed in 2010. Then last year, an optometrist and his wife decided to fix it up.
"He bought it and is currently renovating it," DeFazio said. "I'm going to list it within the next 30 days."
DeFazio, who has started prospecting for potential buyers before the home is expected to hit the MLS on Aug. 17, is confident he can sell the place, though he's concerned with the number of tourists flocking to Old City.
"Tours are constantly going up and down the cobblestone street," he said. "Every morning, someone is looking through your window. It will be interesting to see if there's high demand."
Photos for 123 Elfreth's Alley by Matt Robnett. Photos for 133-35 Elfreth's Alley by George Dimitruk.