I hope that everyone in the path of the forecast record setting snowfall in The Northeastern United States is safe and warm during this projected epic storm. Please heed the warnings of officials and stay indoors. We need to have everyone around come Spring!
courtesy of Eglise Urbain 180



All of you who live in the North don't quite understand that those of us who live in the South at times long for snow. I, for one, would love to have a "good" snow. A "good" snow consists of 4-6 (+) inches, the right consistency for snowballs and snow cream, and the temperature cannot be below 20 degrees Fahrenheit, or we Southern Belles might just freeze our booties off! Believe it or not, schools are closed here for half an inch of the white stuff. In their (the school Superintendents) defense, we don't have the infrastructure here like folks in the North do, and we get ice more often than snow.




I want to have a snow day with my daughter, so we can we sled, make a snowman, and make snow cream. After playing in the snow, we would drink hot chocolate or hot cider, and watch movies in our pajamas for the rest of the day.That sounds like heaven to me. In this heavenly scenario, the sun comes out the next day, and the temperature rises to a balmy 50 degrees, so the snow melts, and we can get back to our regular schedules.




Since the Nashville, Tennessee forecast is 39 and cloudy for tomorrow, I am going to post some of my favorite images of winter, and pretend that my Winter Wonderland fantasy is a reality.






A beautiful image of a snow covered lane by R. Hammitt
I fell in love with Dr. Zhivago first from the album and the photos from the movie that were on the cover. After seeing the movie, the beauty was so much more than those few still photos on the album cover, and the Ice Palace scene was the epitome of winter splendor. I have since wanted an ice castle.
Another image of the Ice Palace from Dr. Zhivago (Sostar S.A., 1965)
The Chronicles of Narnia: The Lion, The Witch, and the Wardrobe was another example of Cinematography that was absolutely beautiful and shaped the dreams of many. The classic books by C.S. Lewis painted his vision of Narnia so clearly, and Director Andrew Adamson captured his vision and brilliantly relayed it to the screen.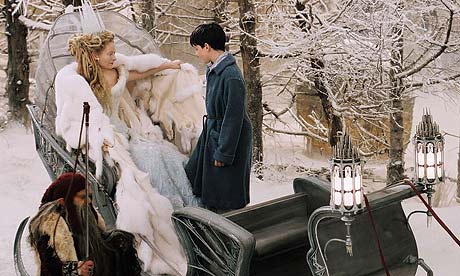 Cate Blanchett as the White Witch in C.S. Lewis's The Lion, The Witch, and The Wardrobe.
From Gilmore Girls, "Women of Questionable Morals", when Luke made a mini- ice rink for Lorelei.... Now THAT is a snow day!
I will continue to dream of a snow day in the South.
May everyone in the Northeast stay safe and warm during this winter storm.